I can never seem to resist a good read-a-thon. On Monday, the
Once Upon A Read-A-Thon
begins and I am really excited. Lori (
Pure Imagination
,) Angela (
Reading Ange
l) and Candace (
Candace's Book Blog
) are hosting it and yesterday they posted up a few books that they recommend the other participants to check out for read-a-thon's. I decided to play along and recommend a few as well, and while I tried to stay away from contemporary, those are the ones I love most and seem to finish up the quickest. Here are 5 books that I think would be great to read during a read-a-thon:
Twenty Boy Summer by Sarah Ockler
I read this book a few years back and I still treasure it.
It is a fast, emotional read that I adored and definitely recommend.
Leftovers by Laura Wiess
Told from alternating points of view and with a shocking ending,
this is a bit of a mystery that kept me intrigued until the end.
The Summoning by Kelley Armstrong
This one is definitely still one of my favorite paranormals.
It has fun characters, action, adventure & more!
If I Stay by Gayle Forman
This one is heartwrenching and will most likely make you cry.
I could not put it down because I became so attached to the story. This is a must read for sure.
A Walk to Remember by Nicholas Sparks
An incredibly sweet love story that I think everyone should
read. Definitely one of my all time favorites.
And there you have it! These are all pretty short reads, some sad and a couple that aren't, but all worth reading. What books do you recommend for a read-a-thon? Share your suggestions with me :)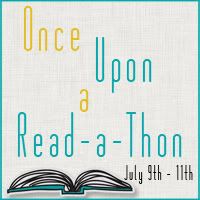 Want to join the read-a-thon? Hurry! It starts this Monday (July 9th)
There will be fun challenges and prizes for participants. Just click the button above.